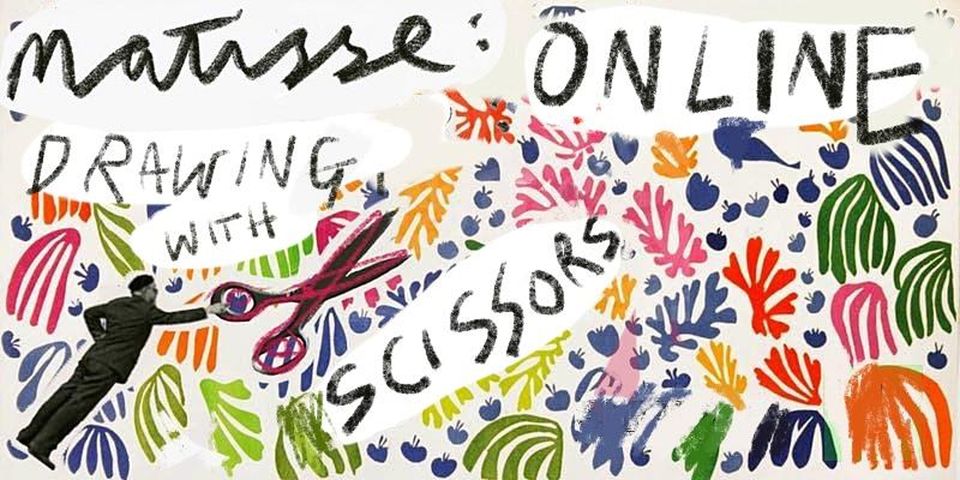 Henri Matisse Online: Painting with Scissors
We've got an incredible number of you interested in this class but we can only host a limited number so please book as soon as you can to secure your place and avoid Matisse FOMO! Please read on for event description, materials list and joining info. If you need help with anything please email us at londondrawinggroup@gmail.com
Time: London, UK (BST/UTC+1)
You can use this site to convert UK time to where you are: https://www.timeanddate.com/worldclock/converter.html
If you cannot make the live event we send a recording out to everyone that books shortly after the live session so you can watch it once within 3 days any time of day:)
EVENT DESCRIPTION:
"What I dream of is an art of balance, of purity and serenity devoid of troubling or depressing subject matter – a soothing, calming influence on the mind, rather like a good armchair which provides relaxation from physical fatigue." – Henri Matisse
This is one of two stand-alone classes where tutor Frances Stanfield will guide you through Matisse's playful approach to art making. This session adopts Matisse's use of scissors as a drawing/painting tool and the other is "Drawing with Sticks" which is now available as a recording on our website www.londondrawinggroup.com
Matisse is best known for both his delightfully fluid drawing style and exquisite use of colour, particularly in his simplistic cut out works. In both sessions you will be engaged in mimicking Matisse's expressive and restlessly experimental way of working to inspire you in your own creative endeavours.
This class is suitable for ALL LEVELS
You will need:
*Some Scissors!
*Paper – you can use colour paper or you can paint/colour in paper prior to the class – Matisse painted his paper with Gouache if you want to really get your Matisse game on!
*A collection of organic matter such as leaves and flowers
*Optional, but handy – pins and a piece of cardboard as big as your paper
OR Masking Tape/Sticky Tape/Bluetak
Please note neither your camera or audio will be on for this session- only the tutors will be seen and heard but you will be able to communicate in the chat if you wish 🙂
Tablets and phones are fine but THIS CLASS IS BEST VIEWED ON A LAPTOP OR COMPUTER
Everyone is welcome to join in on this Pay What You Can class… we know this is a difficult and uncertain time for many and we want to do our best to support you – As you are all probably aware, for the three of us at LDG creativity is our life-blood and our only source of income. Please be honest and pay what you can afford and our online classes will be able to run on a donations basis – if you are struggling, consider this one on the house! You just need to email us stating your situation at londondrawinggroup@gmail.com and we'll make it happen for you.
THE ZOOM LINK WILL BE EMAILED TO YOU AFTER YOU REGISTER, WE HAVE SET UP AN EMAIL WITH THE LINK TO ARRIVE IN YOUR INBOX 1 DAY BEFORE AND AGAIN NUMEROUS TIMES ON THE DAY OF THE CLASS. IF YOU CANNOT FIND IT PLEASE CHECK YOUR JUNK FOLDER FOR AN EVENTBRITE EMAIL FROM US.