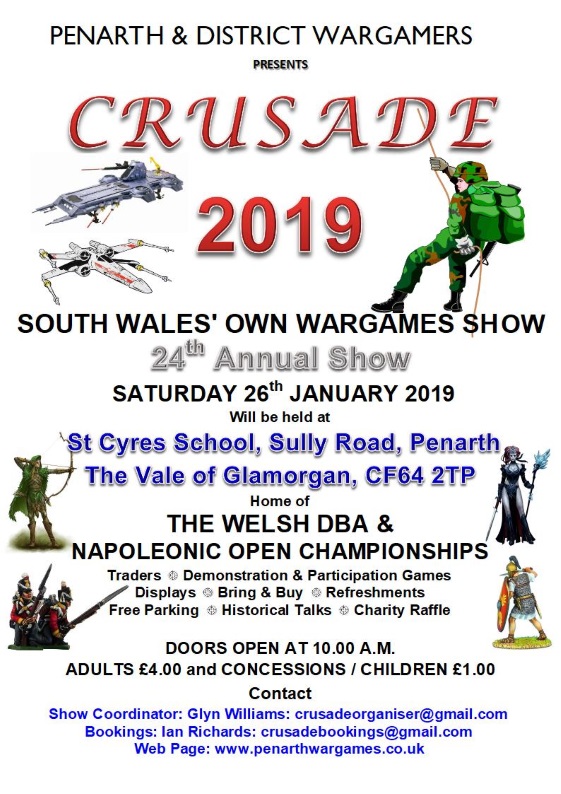 Crusade 2019 Annual Wargames Show
Crusade is the annual show organised by the Penarth and District Wargames Society and is the largest of its type staged anywhere in Wales. This year's show is the 24th and will again take place at St Cyres School, Penarth on Saturday 26th January. Crusade is a highly popular show attracting enthusiasts from all over the UK keen to take part in its many activities.
These include: –
 A range of demonstration games being run, with painted miniatures and scenery.
 Plenty of traders supplying everything desired by gamers of all types.
 Displays by re-enactment and living history societies, showing off their carefully reconstructed and historically accurate costumes and equipment, weapons, uniforms and armour.
 Talks on military history and, new this year, science fiction.
 A raffle in aid of Change Step, our chosen charity.
Everyone is invited to come along and see what this enjoyable hobby has to offer.
Wargaming originated as a form of training in Military Academies but is now a well-established hobby having been popularised by famous authors H. G. Wells and Jerome K. Jerome. Modern games use either miniature figures on modelled terrain or counters and markers on a printed map board.  The setting can be any period in history or a fantasy or science fiction world inspired by books, movies, TV, or just the players' imaginations. Rules regulate such things as movement and shooting but usually include some element of luck to add unpredictability. Unlike the clichéd representation of wargamers in fiction it's not about pretending to be Caesar, Napoleon or even Luke Skywalker, but creating a setting for a game where each of the players makes decisions to try and outwit an opponent that is plausible for the period chosen.
The Penarth and District Wargames Society is one of the oldest and most active wargame society in Wales and includes players of different types and periods of games. These range from Ancients to Modern and Ultra Modern as well as Fantasy and Science Fiction. The scales used also vary considerably with figures ranging in height from 2mm to 40mm.
The clubs activities also include role-playing games such as Dungeons and Dragons, where the player has direct control over miniature character's actions, and numerous board games such as Carcassonne, Risk and Mysterium plus numerous card based games.
The Penarth and District Wargames Society is a friendly welcoming club to both experienced or novice gamers. The club meets weekly, every Tuesday at the Glyndwr Hall, Glyndwr Road in Penarth from 7:15 pm and also all day on the first Saturday of each month at Glyndwr Hall from 10.00am. The members also travel to a number of other shows around the UK with a display game to promote the club and socialise with other parts of the wargaming community.