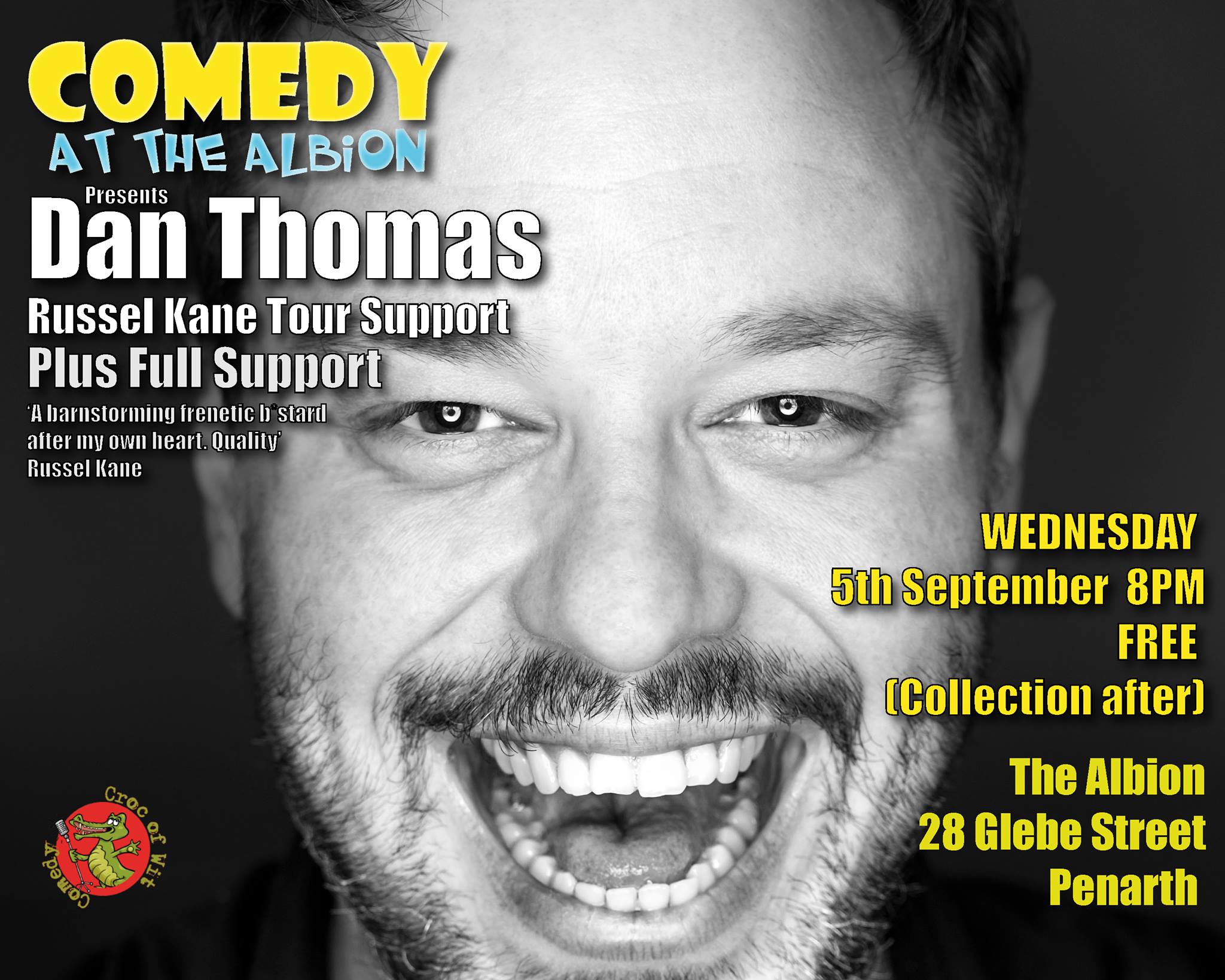 Comedy at the Albion Presents Dan Thomas
After last month's amazing sell out we're back at the Albion with even more laughs!
Our Headliner this month is Dan Thomas
A barnstorming frenetic b*stard after my own heart. Quality." Russell Kane
"Dynamic, dramatic, and funny. If you want comedy this guy is for real. Catch him while you can!" The Glee Club
"Leading the next generation of Welsh comedy" 24/7 Magazine
"Dan Thomas shone brightest… The crowd approves." Buzz Magazine
Dan has been a stand up since 2005, and a professional stand up since 2010. As well as supporting Russel Kane on two tours, Dan regularly appears at The Glee Club, Highlights, The Comedy Store and Komedia. He is also a regular warm up guy for TV.
Basically, the guy is class. A very funny, high energy story teller who will have you in stitches.
Opening for Dan is former rugby prop Gareth Thomas, who's first gig was supporting Gregg Davies. The high octane gag machine and Weigh watchers Slimmer of the Month is hand picked for the Albion and we think you're going to love him.
Beth Jones is returning to the circuit from maternity leave, She describes herself as "Awkwardly short – too short for Petite but not quite short enough for 3/4 trousers to be fully advantageous.". We describe her as highly likeable and very funny.
Our tip for the top this month is Prya Louise Hall. We saw her very first gig a short while ago and were impressed with what we saw. We know how to pick them!
As if that wasn't enough your evening will be "skillfully intertwined" by the Windsor Road Wizard Dylan Jones.
"strong material stonking lines" – Chortle
"an old-fashioned stand up with plenty of one-liners and quick gags … smooth stuff from a man who looked like a natural" Grin Reaper
"a very funny guy" – Noel James
The night is FREE, but there is a collection after the show.
Remember, you're having a Penarth, mate"