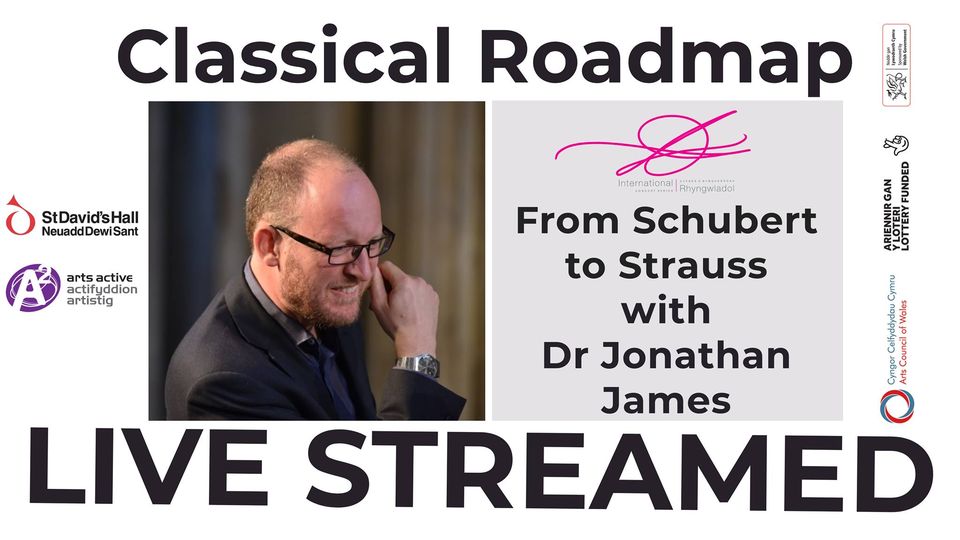 Classical Roadmap: Schubert to Strauss: Romanticism LIVE STREAM
Fasten your seat belts, sit back and enjoy this classical music road trip with Dr Jonathan James. In this second roadmap talk this Autumn, Jonathon James probes the successful formula of Romantic music, looking at what links this diverse period together, with illustrations from Schubert through to Strauss.
These one hour LIVE streamed talks are part of the Arts Active International concert Series Extras, and support the International Concert Series programmed at St David's Hall.
The talks pack both essential information and fascinating tidbits into under an hour, and are delivered with a light touch by Dr Jonathon James from the piano. Whether new and curious to the scene or a concert veteran, there will be plenty there for you to enjoy.
Jonathan has also created a wonderful playlist to expand your listening, with his handpicked "Guide to Classical Music" https://open.spotify.com/playlist/3FbRzRGYOwC9BlZUOlkXb6?si=WVnDGVtqSZ-dbtZLWbb9Pw