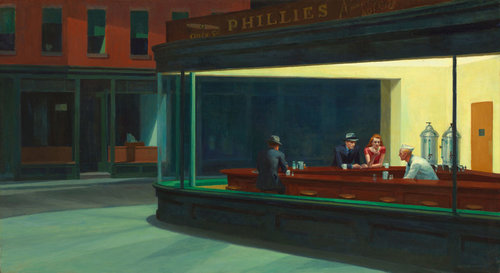 Art History Lectures: Edward Hopper
'All the Lonely People': The work of American Realist Edward Hopper
Presented by Stella Grace Lyons
Hopper was a painter of loneliness and melancholy; from solitary figures in offices, motel rooms and diners, to deserted towns. He portrayed a changing America and the isolation of the individual in the modern city. His works are visually stunning; characterised by striking colours, cinematic and cropped compositions which heighten tension. Flooded with light, his paintings expose detached figures and create a mood of eerie uneasiness. This talk considers some of his most arresting works, including 'The Nighthawks', 'Gas' and 'Automat'.
Stella Grace Lyons returns to the Pavilion with two Art History lectures. Stella is a renowned freelance Art History lecturer and speaker accredited with The Arts Society.
Ticket price of £15 includes a glass of wine following the lecture.