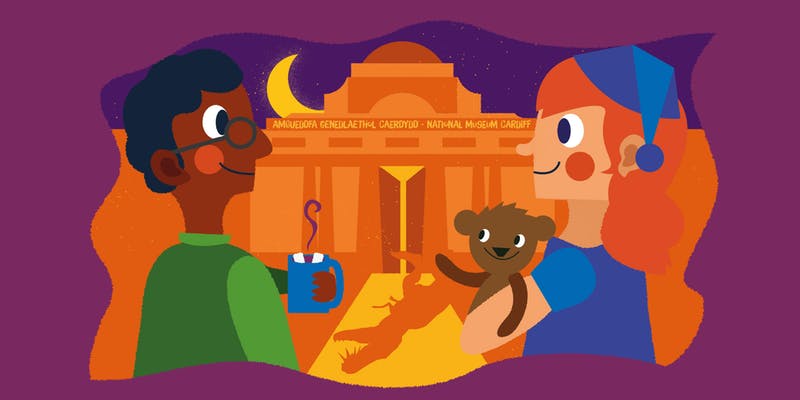 Amgueddfa Dros Nôs – Deffro Gyda'r Deinos! Museum Sleepover – Dino Nights!
Gwahoddiad arbennig – dewch i ddarganfod beth sy'n digwydd yn yr Amgueddfa wedi iddi nosi…ac aros y nos!
Dyma fydd yn digwydd:
Taith dan olau fflachlamp i archwilio Cymru fel yr oedd 200 miliwn o flynyddoedd yn ôl
Cyfarfod ambell i ddeinosor cyfeillgar a gwylio'r wyau'n deor mewn sioe i'w chofio
Gweithdai crefft – wedi'u hysbrydoli gan ffosilau, olion troed ac esgyrn o gasgliad yr Amgueddfa
Siocled poeth a danteithion o bob math i'ch cynhesu
Ffilm cyn gwely yn ein theatr fawreddog – cyn cysgu o dan y gromen fawr…a breuddwydio am wlad y deinosoriaid!
Deffro'n gynnar i gael brecwast cyn mentro'n ôl i'r 21ain ganrif.
Gwybodaeth Bwysig:
Mae'r digwyddiad hwn yn addas i blant 6-12 oed. Rhaid i blant fod yng nghwmni oedolyn, bob amser.
Rhaid archebu ymlaen llaw. Ni ellir rhoi ad-daliad wedi i'r archeb gael ei gwneud. Nid oes modd trosglwyddo tocynnau. Caiff amgylchiadau arbennig eu hystyried yn ôl disgresiwn Rheolwr y Digwyddiad.
Bydd drysau'r Amgueddfa'n agor am 5.30pm ar gyfer croesawu a chofrestru. Bydd y digwyddiad yn dechrau am 6.15pm, ni fydd mynediad ar ôl hynny.
Darllenwch ddogfen Cwestiynnau Cyffredin yn ofalus cyn archebu tocynnau. Ewch i'r wefan i ddarllen.
Ein staff gwybodus a chyfeillgar fydd yn arwain y noson, felly bydd rhai ohonynt yn gallu siarad Cymraeg, eraill yn dysgu a rhai yn siarad Saesneg yn unig. Cadwch lygad am yr arwydd Iaith Gwaith os am wybod pwy yw pwy. Bydd yr holl ddeunyddiau ar gyfer y gweithgareddau yn ddwyieithog, a bydd y ffilm yn cael ei dangos yn ei hiaith wreiddiol, sef Saesneg.
Am fwy o wybodaeth, ewch i:

*Nifer cyfyngedig o docynnau. Ni ellir cael ad-daliad.

__________________________________________________________

You're invited to a very special sleepover – discover what goes on after dark in an action packed night at the Museum.
Here's the plan:
Take a torch lit tour to explore Wales as it was 200 million years ago
Meet some friendly dinosaurs and watch their eggs hatch in a Dino-show to remember
Get creative in our craft workshops – you'll be inspired by fossils, footprints and bones from the Museum's collection
Enjoy a snack box and hot chocolate with a choice of special extras from our toppings station
Settle down for a film before bed in our grand theatre – then camp under the dome to dream of ancient lands filled with fabulous beasts
Wake up bright and early for breakfast together before you head back to life in the 21st century.
Important Information:
This event is suitable for children aged six to twelve. Children must be accompanied by an adult, at all times.
Advanced bookings are required. Tickets are non-refundable once the booking has been made. Tickets are not transferable. Compelling circumstance will be considered at the Event Manager's discretion.
Museum doors will open at 17:30 for welcome and registration. The event will start at 18:15 – entry will not be permitted after this time.
Please read the FAQs carefully before booking your tickets. Please go to our website to read these.
Our friendly and knowledgable staff will be leading the evening, some of whom speak Welsh, some are learning and others speak English only. Keep an eye out for the Iaith Gwaith logo if you want to know who's who. All of the materials supplied for the activities will be bilingual, and the film will be shown in its original language, which is English.