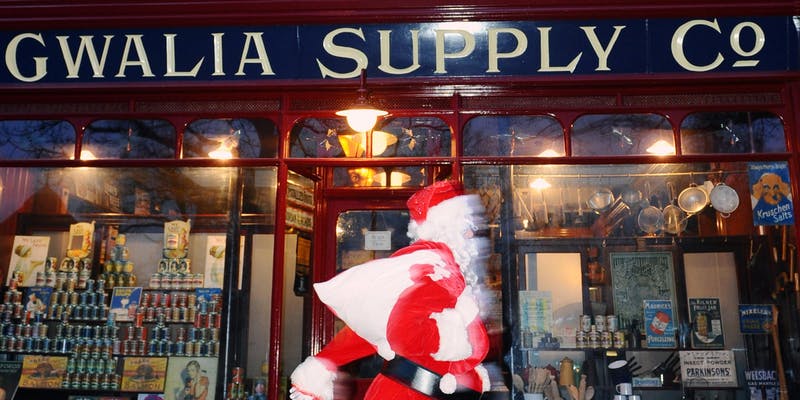 Nosweithiau Nadolig | Christmas Nights
Os ydych chi'n chwilio am Nadolig Cymreig traddodiadol i'w gofio, yna cydiwch mewn llusern, gwisgwch yn gynnes a dilyn y seren i Sain Ffagan eleni!
Bydd perfformiadau o draddodiadau Nadolig unigryw Cymru: y Fari Lwyd a Hela'r Dryw. Bydd tanllwyth o dân, carolau yn y capel, canu Plygaintraddodiadol yn yr Eglwys a band pres ar lawnt Gwalia.
Bydd cyfle i'r rhai bach gwrdd â Siôn Corn. Gallwch ysgrifennu llythyr at Siôn Corn yn yr ysgoldy Fictoraidd a'i bostio yn swyddfa bost leiaf Cymru. Galwch draw am sgwrs gyda'r Postfeistr. Dewch am dro ar drên bach y Nadolig i Ffermdy Llwyn-yr-eos i gwrdd â Siân Corn yn ei chegin. Gwnewch yn siŵr eich bod yn galw mewn i'r stablau ar y ffordd – rydym wedi gwahodd ambell i westai pedair coes arbennig iawn!
Yn ogystal â'n gweithdai crefft, bydd yna lu o weithgareddau eraill, gan gynnwys creu torchau i oedolion, addurno dynion bach sinsir gyda'r teulu cyfan a llawer mwy. Dechreuwch ar y siopa Nadolig yn ein marchnadoedd bwyd a chrefftau Nadoligaidd – cyfle i gael anrhegion a danteithion sy ddim ar gael ar y stryd fawr.
Wrth i'r noson ddod i ben, byddwn yn dod at ein gilydd yn y Neuadd Groeso i ganu carolau i godi eich calon – pa ffordd well sydd i fwynhau hwyl yr ŵyl nag yn Nosweithiau Nadolig Sain Ffagan.
Mae pris y tocyn yn cynnwys:
Perfformiadau o'r Fari Lwyd a Hela'r Dryw gan Gwmni Dawns Werin Caerdydd
Canu carolau yn y Capel
Canu Plygain yn Eglwys Sant Teilo
Cyfarfod Siôn Corn (anrheg fach i bob plentyn)
Ysgrifennu eich rhestr Nadolig yn yr ysgoldy
Perfformiadau Band Pres
Trên bach y Nadolig
Adrodd straeon a chymeriadau'r Nadolig
Gweithdai crefft i oedolion a theuluoedd*
Canu carolau gyda'n gilydd i orffen y noson
Parcio ar gyfer y digwyddiad (ar ôl 5pm)
* ddim yn cynnwys gweithgareddau'r Farchnad Nadolig a'r Ffair Draddodiadol
Archebwch docyn am ddim i bob plentyn dan 2 oed.
Ni ellir cael arian yn ôl na newid tocyn am ddyddiad neu ddigwyddiad arall.
Cŵn cymorth yn unig ar gyfer y digwyddiad hwn
---
If you're looking for a traditional Welsh Christmas to remember, why not grab a torch, wrap up warm and follow the star to St Fagans this year!
There'll be unmissable performances of Wales 'unique Christmas traditions: the Mari Lwyd and The Hunting of the Wren. You'll find logs on the fire, carols in the chapel, traditional Welsh Plygain singing in the church and a brass band on Gwalia Green.
For the little ones there'll be a chance to meet Father Christmas. You can write your Christmas list at the Victorian Schoolhouse then pop it in the box at our post office. Stop for a chat with the postmaster while you're there. Ride the Christmas land train down to the Llwyn Yr Eos Farm to meet Mother Christmas in her kitchen. Be sure to check the stables while you're there because we've invited some special four legged guests.
Get creative at our craft workshops, there's wreath making for grown-ups as well as family friendly gingerbread decorating and more. Make a start on your Christmas shopping at our festive food and craft markets – a chance to pick up gifts and treats you won't find on the High Street.
Then as the evening draws to a close we'll gather together in the Atrium for some carols to gladden your heart – there's no better way to kick off the Festive Season than the St Fagans Christmas Nights!
The price of your ticket includes:
Performances of the Mari Lwyd & Hunting the Wren from Cwmni Dawns Werin Caerdydd
Carol singing in the Chapel
Plygain singing in St Teilo's Church
Meet Father Christmas (small gift for each child)
Write your Christmas list in the schoolhouse
Brass Band performances
Ride the Christmas land train
Storytelling and Christmas characters
Craft workshops for adults and families*
Community carol singing session to close the evening
Event car parking (after 5pm)
*excludes Christmas Market activities and Traditional Fairground
Please book a free infants ticket for each child under 2 years old attending.
All tickets are non-refundable and cannot be exchanged for an alternative date or event.
Assistance dogs only for this event please