Alexandra's Enchanted Garden comes to Penarth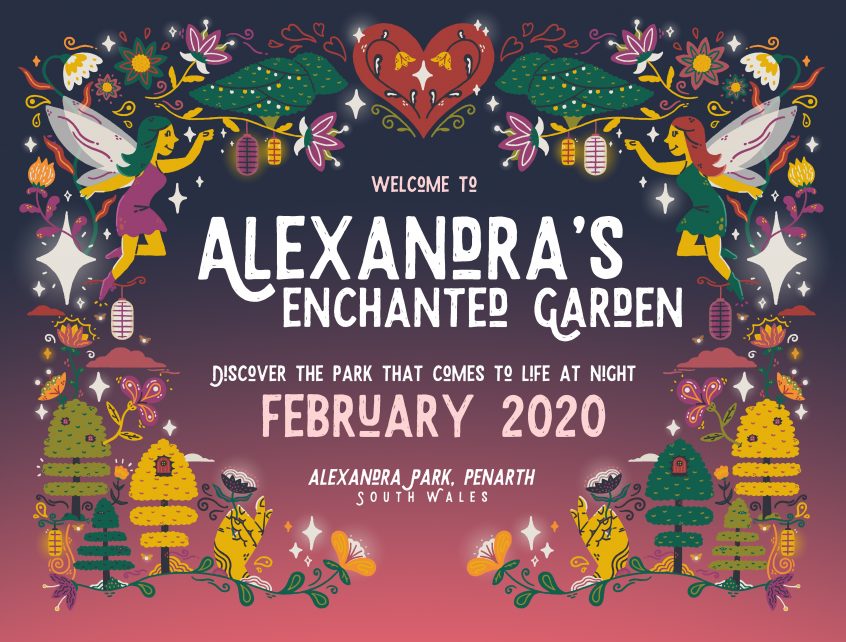 Come and discover the park that comes to life at night! Alexandra's Enchanted Garden will take you on a magical journey where winding paths will reveal a series of installations, lighting displays, and soundscapes, creating memories that, young or old, you'll never forget!
The Story of Alexandra Park
Many moons ago, in a land not too far from here, lived a little girl who loved stories. Her bedroom was piled high with books and every day she escaped into their pages, becoming a warrior, a knight, an explorer, a dancer, going on great adventures, casting spells, flying to the stars and making mischief.
Princess Alexandra wasn't like other little girls, in fact, in the kingdom where her Mother ruled she was the only little girl that lived there. So Alexandra played with imaginary friends, she lived in a world of magic and mystery but her parents worried about her make-believe world.
Every day Alexandra went to the park to read her books and to sit amongst the trees, watching the butterflies and the birds dance and having adventures with the friends she dreamt up.
And so one day her Father summoned a Sorcerer to enchant the garden so his little girl wouldn't be lonely anymore and would have real friends to play with.
The Sorcerer conjured up magical woodland creatures, pixies, and imps; Giants to make Alexandra feel safe and to watch over her, and fairies to tell stories and share secrets with. She promised that every night as the sun started to set and each star appeared in the sky, a tribe of mystical friends would awake.
Alexandra loved her new friends but for the little girl what she really dreamed of was a park filled with children to play with. So the pixies set about building a Wishing Factory for the Princess. Every night, Alexandra went to a well, made a wish for girls and boys to play with, and the pixies caught it and fed it into the Wishing Factory. It bubbled and hissed and churned away, but it needed more wishes. Only when they had enough wishes would the forest would be filled with girls and boys and magical creatures and wonderful adventures could be had by all that visit it.
So that's where you all come in, will you help us make Princess Alexandra's wishes come true? Come visit the park that comes to life at night, make a wish and discover something magical…
Here we speak to Lizzie and Rich Rayner, the team behind Alexandra's Enchanted Garden to find out more about the light trail, and what we can expect to see.
What can our readers expect?
An immersive experience, perfect for adults and children alike, where you will get to wander through the park and see it like never before. It will be a time for your imagination to run wild with everything you can see and hear!
What gave you the idea for this light trail?
Having worked on a whole host of events all over the UK, we wanted to create something right here in my home town. Something inviting, something for families and something that brings our community together. Everyone needs something to look forward to after Christmas, and February half term is the perfect time for families to bond and experience a little magic.
Did you have any personal influence on each installation?
Every aspect has been specifically brought together for this project but it is certainly a team effort. We have a brilliantly creative team of lighting, sound and set designers working hard to bring Alexandra's Enchanted Garden to life, if you follow us on social media over the next few weeks, we are going to showcase some of the fantastic talent involved in creating the magic!
What makes this so unique?
I think it is the combination of the magical aspects we are incorporating such as the Wishing Factory as well as getting to enter the park after dusk and seeing it lit up so beautifully like never before. We want the experience to be something that can be enjoyed by every member of the family.
What made you choose Alexandra Park as the venue?
Alexandra Park is such a beautiful and iconic landmark in Penarth, we wanted to create an event that shows it off in all its glory, and highlights its meandering landscape, and spectacular topiary trees. There is also a personal connection for me to the park as my Grandpa used to bring my dad to Alexandra Park when he was a little boy many years ago!
What are the challenges of such a big light installation?
We want to cater for everyone, young and old, so I think that is probably one of the biggest challenges to span the generations! We are also very conscious of our impact on the park as well as our carbon footprint of producing the event. We will be using our extensive stock of LED lighting equipment throughout the park to keep consumption as low as possible, as well as directional speakers to ensure we contain any sound within the park. A big thank you to the Vale of Glamorgan Council and Penarth Town Council for their on-going support and allowing us to use the park to put this event on.
For you personally, can you spotlight your favourite part?
It's so hard to choose a favourite part but the giant's garden always brings a smile to my face, and getting a peak into the fairy kingdom! Rich really loves seeing the beautiful landscape brought to life through a mix of lighting and sound.
Are there any more light displays planned in the future?
We really hope so! We would love nothing more than for this to become an annual event and perhaps look at exploring other areas in Penarth where this type of experience event would work.
You can discover Alexandra's Enchanted Garden from February 14th to the 22nd at Alexandra Park in Penarth. Keep up to date with the magic at www.alexandrasenchantedgarden.co.uk and follow the whole enchanting tale on their Instagram @alexandras_enchanted_garden