Cardiff & Vale businesses unite to raise money for Cleft Lip and Palate Association
A group of Cardiff and Vale-based businesses have come together to raise money and awareness for the  Cleft Lip and Palate Association (CLAPA). Beginning with The Business Centre (Cardiff) Ltd who decided to host a Fundraising Extravaganza event between 7-9 May to raise awareness for the cleft lip charity. They reached out to local businesses and were blown away by the support and generosity of local restaurants and hotels who've responded with a wealth of donations and prizes!
The Business Centre (Cardiff) Ltd are incredibly active in the local community, from fundraising to install a Welsh Hearts defibrillator onsite to supporting local sports hub, Barry Athletics Bowls Club. Their former Centre Manager, James Mason, now at Masons Self Storage, and his partner, Lucy, faced complications during Lucy's pregnancy after it was revealed at their 20-week scan that Oliver had potential Cleft Palate issues. However, Oliver was born in October 2018 and luckily only had a notch in his lip which was easily corrected with a surgery when he was three months old. Eight weeks on from the surgery, he is absolutely thriving!
However, considering 1 in 700 babies are affected by Cleft Lip and Palate issues, James and Lucy don't feel like there is enough awareness around the challenges and potential complications. Therefore, they are taking part in CLAPA's fundraising week to raise money and awareness for this fantastic cause! They already have raised almost £500 through Facebook and now they've reached out to local businesses to see if they can help!
Thanks to the pro-activeness of Emma Lusty, at Revolucion de Cuba, our local hospitality brands, ranging across restaurants and hotels in Cardiff, have shown amazing solidarity, providing a variety of absolutely fantastic prizes!
Emma told us "The Cardiff hospitality sector is very competitive. Despite this healthy competition we are close and always help each other where and when we can. Cardiff is a great location with many varied offerings in all parts of the city. When it comes to charities we endeavour to do what we can within a difficult trading environment but ultimately it's great to help out so many well deserving charities"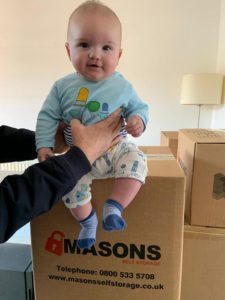 Baby Oli
Join The Business Centre (Cardiff) Ltd between 7 – 9 May & get involved!
This event is open to all, not just residents of The Business Centre (Cardiff) Ltd, so please feel free to tell your friends and family about the event. They are looking to raise as much money and awareness for CLAPA as they possibly can! There are three ways to take part between 7 – 9 May 2019, with the winners being announced Friday, 10 May.
Believe us, this is a three-day event that you do not want to miss! Just to whet your appetite, here is just a selection of some of the prizes up for grabs next week:
Bike Challenge – How far can you cycle in 10 minutes?
1st Prize for the longest distance: A year of FREE membership at Riverside Leisure Centre
2nd Prize A booth and a bottle of flavoured vodka at Revolution 
3rd Prize Balance Photography  2 Vouchers for 1-hour Photoshoot and 10 prints.
Give Teddy X a name 
The winning namer will get to enjoy a meal for two with bottle of wine at Revolucion de Cuba
Runner up name: Balance Photography 2 Vouchers for 1-hour Photoshoot and 10 prints.
Raffle
A night for two in a room with a 4-poster bed atLincoln House Hotel with Breakfast
Two tickets to attend the races at Chepstow Racecourse
Afternoon tea for two at Future Inns
4 Tickets for Bingo Lingo at the Depot
A booth and a bottle of prosecco for four at Slug & Lettuce
A booth for ten with a round of cocktails at Steinbeck & Shaw
Balance Photography: 2 Vouchers for 1 hour Photoshoot and 10 prints (Valued at £75 each)
A game for 5 at Breakout Cardiff
One Gel Nail Application from Polish me Pretty, Barry
Manicure & Pedicure from Kath Thomas at  Nailed It Barry
£20 voucher from the  Hair Den in Barry.
A beautiful selection of creative, greetings cards on recycled card from Along Came Loni
We are so honestly amazed by the unbelievable generosity of Cardiff and Vale businesses and the way they've come together to raise money for CLAPA and to support a local family! We're sure next week is going to be an amazing extravaganza of fun and fundraising, so make sure you don't miss out!
Join The Business Centre (Cardiff) Ltd between 7 – 9 May at their centre for the chance to take part in all of the fundraising fun and raise money for an excellent cause!
The Business Centre (Cardiff) Ltd provides business support packages through their serviced office facilities and office space options at a simple price, so whether you are looking for co-working facilities, flexible serviced offices, shared offices or a business address package, their bespoke services can be entirely tailored to suit you and the size of your business.
Cleft Lip and Palate Association believes that every smile tells a story. From expectant parents dealing with a diagnosis to adults struggling to get the care they need, they believe that these stories and the people in them should shape everything they do
The Business Centre Barry
Cardiff House,
Cardiff Road,
Barry,
CF63 2AW
0800 634 9920 or 01446 739911