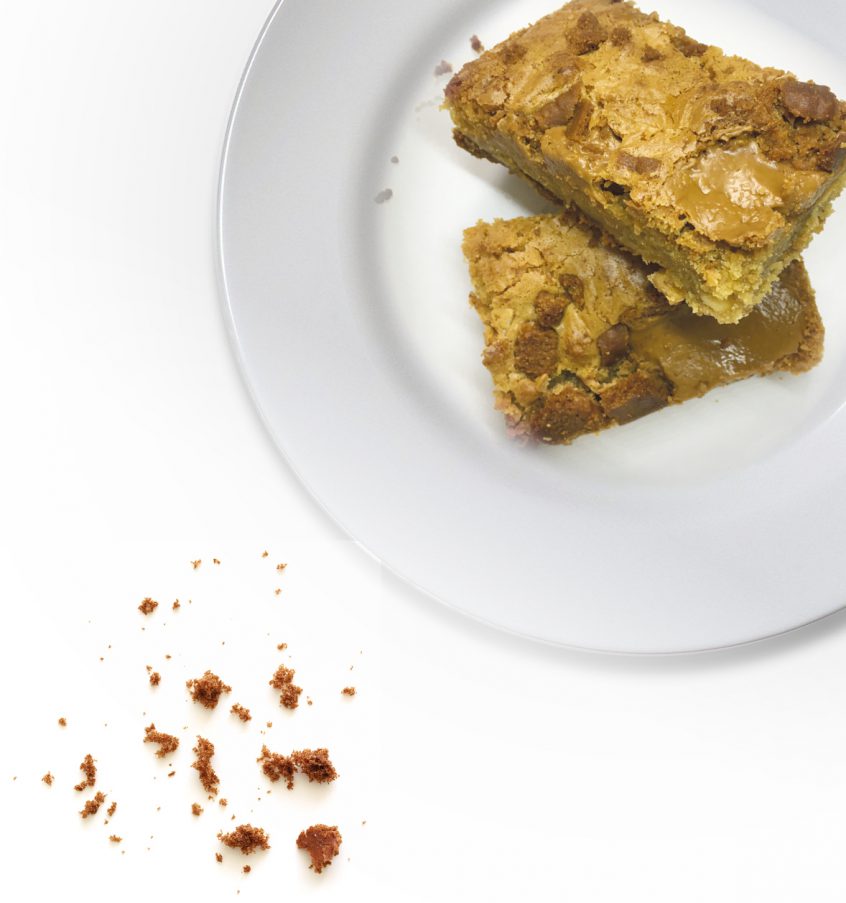 // 225g unsalted butter chopped into cubes, plus a little for greasing
//Â  200g white chocolate chips
// 175g plain flour
// ½ tsp baking powder
// 200g soft light brown sugar
// 100g golden caster sugar
// 3 large eggs
// 2 tsp vanilla paste
// ½ packet Lotus biscuits
// ½ jar Lotus Biscoff spread
Charlotte, Lily's Bake Box
A home-based business in Penarth, providing the best cakes to Cardiff and the Vale.
Lily's Bake Box
Grease and line a tray bake tin and preheat the oven to 180 degrees Celsius.

Line the bottom of the baking tray with the half packet of Lotus biscuits.

Over a gently simmering saucepan, melt the butter and a 100g of the white chocolate chips. Make sure it doesn't burn. Once melted put to one side to cool for 15 minutes.

In a separate bowl, combine the flour and baking powder with a pinch of salt.

Place the sugar and eggs in a large bowl and whisk until the mixture becomes thick and foamy. The mixture will leave a trail on top for a few seconds and that's when you know it's ready.

To the sugar and egg mixture add two heaped spoonfuls of the Biscoff spread and whisk in.

Add the vanilla to the melted chocolate and butter – it will have separated so give it a good stir. Add that to the sugar and egg mixture. Fold with a spatula until all fully combined.

Sieve in the flour mixture and fold until combined then add in the rest of the chocolate drops.

Pour into the tin and spread evenly. Dollop the Biscoff spread over the top randomly and as much as you like. Then crumble a couple of the biscuits on top.

Bake for 25-30 minutes or until a skewer comes out clean with a few crumbs on. Leave to cool in the baking tin then cut into squares. Enjoy!