Ben Cook: "This is a Book About Dreams Coming True"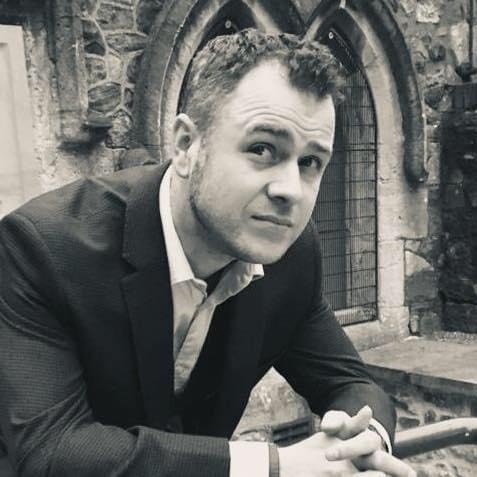 A self-employed author, who was inspired to publish his first children's book after the tragic death of his daughter and the pandemic affected his mental health, has spoken about what led him to opening his own publishing label and his gratitude towards the community who made his dreams possible.
Ben Cook, who lives in Penarth, has overcome many challenges within the past few years and has inspirationally come out on top. Here at Penarth View, we spoke to Ben, whose story has captivated us all.
Losing a child is something every parent prays they never have to face, but for Ben it became a tragic reality when his daughter, Grace was stillborn in August 2011.
Talking about how losing his daughter inspired him to start writing, Ben said: "She inspired me to write when we lost her. In the two weeks that passed I was thinking 'I'm not going to be able to build a lifetime of memories with her, so I want to capture everything about the pregnancy, all the things that were fresh for me'."
"Although it was terribly tragic, I wanted to remember all those things. So, what I did almost instinctively, was I wrote two poems that I then read at her funeral. One was a poem that I wrote from us to her, and one was almost a message from her to us. And I captured all the memories in there."
"It was the response I got afterwards from people about what I had written, like how could you write something so beautiful, coming from such an experience? For me, it was just an instinctive thing. I just did it. The feedback I got from people from my writing is what gave me the confidence to carry on. Because that had been a comfort for me, and I was able to give her the send-off she deserved through my words, I then wanted to keep on writing."
Going on to speak about how he came to write his first children's story, Ben added: "I spoke to a friend's daughter Maisy and said, 'I'd like to write something for you, what are your favourite things?'. And she said, ' I like pink, I like princesses and I like princes.' So it was kind of born from that point."
"I started writing just a small poem and it built, and built, and built. I had never been so engrossed in anything I had written before. That was 10 years ago I wrote it, and it wasn't until a very low point where I was signed off work due to anxiety and depression that I woke up one morning and I had no sense of purpose. I thought, 'I have two young kids, I need something to pull me through this."
"I've always been very open about mental health problems, and people have genuinely been more open because of Covid. You'd be lying if you said you haven't experienced mental health problems these days."
"I thought, I need a positive point of focus, something to get me through this. I sat down and wrote a list of all the things I could control, all the things that were good, and all the things that I could focus on. In that list was a book that I'd written ten years ago." 
This is where Ben's new career path began, he had found a purpose to pull himself out of such a terrible time in his life and he needed the help of our generous community to make his purpose a reality.
"I loved the way our community pulled together during COVID, like many communities right across the UK, and I wanted to reach out to that same community and say, "Can you help me bring this book to life?"
"So, I appealed to the same community that had been there and supporting local businesses, as I wanted them to help me with my cause. My cause wasn't just about helping me with my book, it was about helping me raise money to produce the book, so that the profits from book sales could then go back into the community. It's more about what the book represents. There was a strong underlying message in the book about seeing a world without limits, when Covid has just brought us restrictions. It's fun, it's playful, it's quirky and it's about letting a child's imagination run free. It feels right to give back to the community and give back to schools when their fundraising efforts have been hit so hard."
Taking to his Just Giving fundraising page, Ben wrote: 'My name is Ben and I'm the very proud father of Charlie and Molly. Anyone who knows me, is used to seeing an outwardly confident, 100mph individual with puppy-dog like enthusiasm and a desire to entertain people. Making people happy makes me happy. It's that simple.

I also struggle with anxiety, ADHD and occasional depressive episodes, but that's just me and the highs and lows of my genetic make-up.

Two weeks ago I woke up early, but that's not unusual. This day was different. I couldn't and didn't want to get out of bed. The day before I had been signed off work for 56 days due to anxiety and poor mental health. Negative thoughts and palpitations immobilised me, and I lay there for hours worrying about my finances, how I'd pay the bills and how on earth I'd get the kids through the summer holidays. I eventually got up and dragged my butt downstairs and made a STRONG cup of coffee.

Instead of giving in, which almost felt easier, I started to make a list of all the things I was good at, things I 'could' control and things I was passionate about. I needed a positive point of focus to get through how I was feeling.

On that list was the book I'm seeking your funding for – The Pink Princess. I wrote it several years ago following the loss of my daughter Grace, but despite encouragement from others, lack of confidence had always prevented me from self-publishing. I'd approached major publishers, but they tend to work through agents, and you try securing the services of a good agent!
The time felt right! I had an opportunity to use my book to give back to my town and say thanks to the schools, so that's exactly what I decided to do.'

'In the last two weeks I have felt incredibly alive, incredibly happy and I'm determined to see this continue. In short, I have gone from wanting to just get through each day, to not wanting each day to end.'
'Penarth is a community I believe in. Right now, I'm asking the Penarth community to believe in me! This is just the beginning of what I feel I can achieve.'
As always, the Penarth Community pulled together in support of Ben and 117 donations quickly raised the £3,200 that was needed to cover full production costs, including illustration, formatting, book cover design, ISBN registration and printing of 1,000 paperback books in full colour. Thanks to the generosity of Penarth, Ben's story has been brought to life. People flocked to the comments section of the Just Giving page to express their excitement over Ben's new adventure, with Helen Cook saying, ' Ben is so committed and enthusiastic and the book is amazing.'
Another comment, from Ben Nutley, read: 'What a worthwhile cause. Great effort- Well done Ben!'
After the target was reached, Ben added: 'Momentous occasion! We've just hit the £3200 target to fully fund the book production with a whopping £265 final donation! Thank you to EVERYONE for your support to date. Illustrator is hard at work and I'm super excited after seeing some of her drawings so far.'
Speaking about the support he's received, Ben added: "With the support I've got from people, and the donations and comments, it's been mind-blowing. At a point where my self-confidence had been really low, I took a bit of a gamble in putting things out there because it was taking me way out of my comfort zone. 'But because the profits are going to local schools', it gave me a reason to get out of bed in the morning, It gave me that positive focus on making a difference".
"It's brought together 21 years of my lived and commercial experience, including sales, creative marketing, social media marketing, event management and the charity sector. Working on this has enabled me to use those skills where I hope to make a difference."
"I've now gone from being employed (with a salary) to being a self-employed, self-published author. I'm not going to say that it's not scary because it is! But, I have now got complete control over what I do. I've taken that leap of faith. I've set up a publishing label called Nobody's Dog, which is all about investing in children. All my writing will be about positive self-image. It will be about celebrating diversity, individuality and teaching children about being the very best that you can be. You don't need to be the best in the world, but just the very best that you can be. That is all that matters. It's about writing that helps children with positive mental health, and messaging that can help support parents and educators. Profits from very single book will always go back directly to the schools and children's charities."
"The writing and the messaging is important for children. I also write in a way that is not just for kids. I've had enough bad experiences of saying to my children, 'go and chose a book', and they chose I book I hate reading. But there are loads of books that I love reading and love performing to my children. It's not just the child reading, it's a completely immersive family experience. I like to think I write in a way that also engages parents. I want parents to be reaching out and saying, 'let's read that again'.
"It's not just the writing though; the illustrations are vitally important too. You need to have characters that children can identify with. In The Pink Princess, you've got a beautiful non-white princess, she wears glasses, she's got Doc Marten Boots with a more traditional frilly dress. The prince in the story has freckles, reddish brown hair, shaved sides and a man bun. He probably looks more stereotypically female than she does."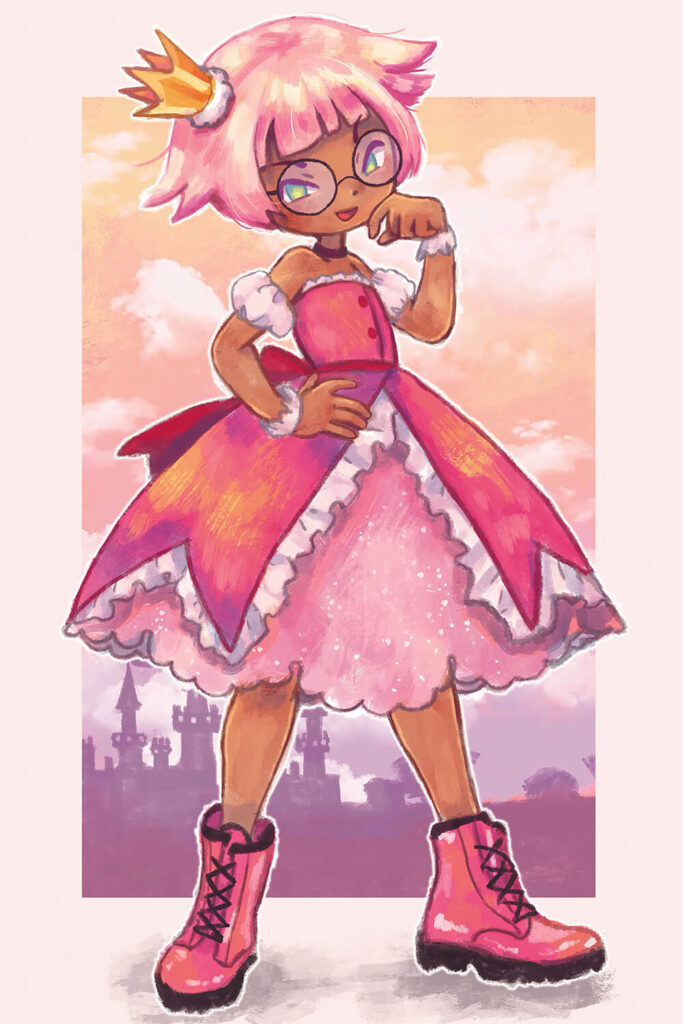 So what is The Pink Princess about?

Explaining what his book is about, Ben wrote: 'It might surprise you that it's actually about a princess who likes pink. How very cliché I hear you say, but more cliché would be if you just bought the book for your daughters, and not your son!

This is a book about dreams coming true, about happy ever afters, and a story I am certain will entertain parents as well as their children.  It's about imagining a world without boundaries, when Covid-19 has stolen that from our kids in recent times.'
To purchase Ben's book, The Pink Princess, visit: https://nobodysdog.com/
Ben would also like to take the time to thank the following businesses, who have been nothing but supportive:
Ener-chi, Wasons, Willmore's 1938, Kitchener & Thomas, David Lush, Puravida Boardriders, Anytime Fitness Penarth, Penarth Pet Shop, Jo's Organics, Busy Teapot, La Fauvette, Brod, Motts Insurance, Andrea's Flower Boutique, Clay Pit, Crop Shop 2, Beauty Within, Beauty Box, Crepe Escape, SnellI, Ogam Igam, David Baker & Co, Umpa Lumpa Sweet Shop, Victoria Tea Room, Mayberry Pharmacy, The Bottle Shop, Wax and Glo, Victoria Motors, Victoria Private Nursery, Coffee#1 and Stol Coffee