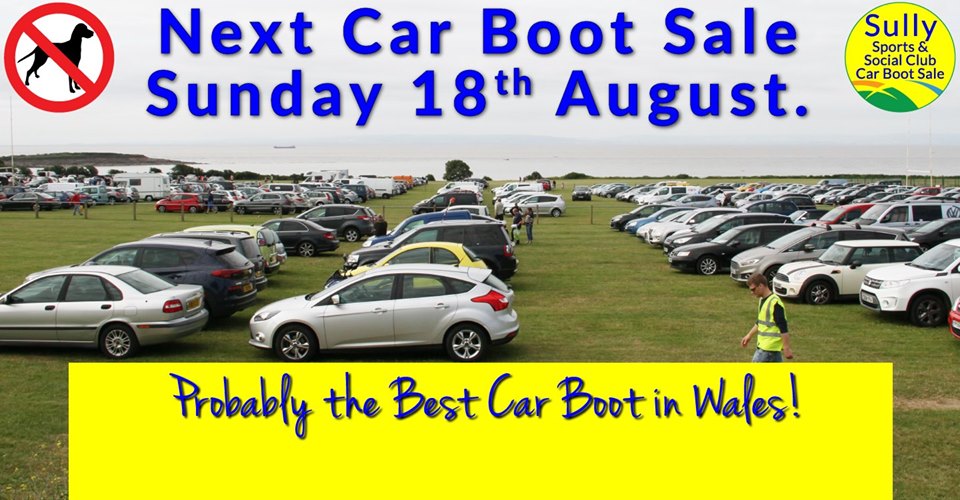 Sully Sports Car Boot Sale
Sully Sports and Social Club Car Boot Sale 2019
The car boot sales take place (weather permitting) every Sunday morning during the Spring and Summer months at Sully Sports and Social Club's sports ground. The first sale this year is on Sunday 28th April. Entry for sellers starts at 06.30am and for buyers its 07.30am.
If you are a seller, please try and arrive early to set up your stall as we cater for over 500 vehicles. Refreshments, food and toilet facilities can are on site. We ask all buyers and sellers to leave the sports field by 2.00pm. You can park in our main car park and enjoy refreshments in the social club's bar or why not try our delicious Sunday carvery served from midday till 4 pm in the Wilton Lounge.
As our boot sales are weather dependent, if you're in any doubt if it's on, please confirm by either visiting our Facebook page – www.facebook.com/SullyCarBootSale, phone on 02920 108678 (weekdays and Saturday). We try to decide by midday on Saturday, but this is not always possible.
We hold a free draw for sellers in the clubhouse following the boot sale at 2.00pm prompt. You need to be in the clubhouse and place your entry ticket in the box provided with your name and car registration number on the back for a chance of winning up to £100.00.
As we hold our sales on our sports fields, the car boot sale has a strict no dogs' policy (except for service and guide dogs). A dog warden enforces this policy and anyone on the club's grounds with a dog will be asked to leave imminently. It is also not permitted to leave your dog in your car on club premises.
We cannot allow rubbish or any unsold goods to remain on our sports fields and grounds. Please be sympathetic to our environment and clear up any waste, as firstly we are a sports club.
We work closely with the Police and The Vale of Glamorgan Trading Standards and will not permit the sale of illegal items from our car boot sale. If you are unsure or you wish to report a person selling prohibited items, please contact one of the stewards or marshals on duty. Individual's found to be selling illegal items will have their details passed to both the Police and Trading Standards and will be suspended from trading immediately.
Quick Reference Guide:
Opening Times Sunday:
Entry for sellers – 06.30am
Entry for buyers – 07.30am
Sellers:
Family Car – £8.00
Vans, cars with trailers and sideways parking – £16.00
Large Vehicle – £24.00
Free prize draws in the clubhouse at 2 pm; you must be in the clubhouse to win it.
Buyers:
Parking Free
Entry Free
Car Boot Sale Rules of Entry
• All cars must use the main entrance off South Road.
• Follow the instructions of the stewards on duty.
• Park your car as instructed by car park marshals.
• It is unlawful to sell counterfeit goods at our boot sale as it is anywhere in the UK.
• Sellers to remove all debris and unsold items from our site.
• No littering, please use bins provided on site.
• Strictly no dogs except service dogs and guide dogs
• Cars wishing to park sideways are charged £16.00
• All buyers and sellers to leave the sports field by 2.00pm.
• After 2 pm all vehicles can park in our main car park.
How to find us
For driving instructions from your home/business, please visit our map and direction page on our website – http://www.sullysportsclub.com/Sully-Sports-Club-Contacts-Info.html
For any further information please either ring us on 02920 530629 or email us at carboot@sully.club.